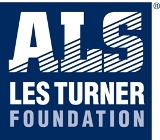 The Les Turner ALS Foundation is the Official Charitable Partner of the Chicago Bandits for the 2012 season
What is ALS, better known as Lou Gehrig's Disease?
ALS, also known as Lou Gehrig's disease or motor neuron disease (MND), causes motor neurons to stop working and die. The result is loss of voluntary movement and muscle functions such as speaking, swallowing and breathing. In the US, someone is diagnosed every 90 minutes and 35,000 people are living with ALS. Average lifespan is three to five years from diagnosis. Though treatment of symptoms often improves quality of life, there is no cure for ALS.
About Les Turner ALS Foundation:
Since 1977, the Les Turner ALS Foundation has been a leader in research, patient care and education ALS. The Foundation serves more than 90% of the ALS population in the Chicago area. The Foundation is also one of the nation's largest independent ALS organizations and has raised nearly $45 million to fight Lou Gehrig's disease. In addition, through wide-ranging research and symposiums for healthcare professionals, the Foundation reaches the ALS community worldwide. The Foundation is affiliated with Northwestern Medicine and is a founding member of the International Alliance of ALS/MND Associations.
How you can help:
There are a variety of different ways that you can get involved and make a difference for the approximately 35,000 ALS patients living in the United States. You can attend or volunteer for an event, join the YoungProfessionALS, purchase awareness bracelets or magnets or donate directly to the programs that the Les Turner ALS Foundation supports. For more information on ways that you can help, click
here
.
If you are attending a 2012 Chicago Bandits home game be on the look out for our "Pass the Hat" promotion. All proceeds will benefit the Les Turner ALS Foundation. In addition, Thursday, August 16 will be ALS Awareness Night at the park as the Bandits take on the Carolina Diamonds. The night will feature a jersey raffle to raise additional funds for the Foundation.
Additionally, the Bandits and the Les Turner ALS Foundation will also host one family per home game, to come out to The Ballpark at Rosemont to watch the 2011 NPF Champions in action. Families affected by ALS will be chosen by the Foundation to come out to the game for a fun-filled night.
"With the Les Turner ALS Foundation celebrating its 35th year, we are extremely excited to be partnering with the Chicago Bandits. This partnership will increase the awareness of the Les Turner ALS Foundation, the disease and also highlight the community support of the Chicago Bandits." - Kim McIver, Special Events Manager