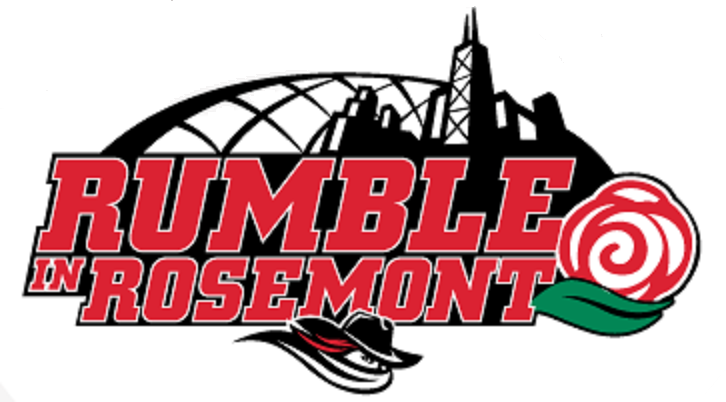 2014-15 Rumble in Rosemont Tournaments
| | | |
| --- | --- | --- |
| Date | Age Group | Results |
| October 24-26, 2014 | 12U | Click here to view the 12U Rumble in Rosemont - Final Standings |
| | | |
| --- | --- | --- |
| Date | Age Group | Results |
| November 21-23, 2014 | 14U | Click here to view the 14U Rumble in Rosemont - Final Standings |
The hotel is happy to offer a $109 guest room rate that includes complimentary overnight self-parking and complimentary Wi-Fi. The cut-off date to make reservations is Friday, December 5.

$600 per team

4 game guarantee (AND NO RAINOUTS)

Two (2) umpires for ALL 12U-18U games

Game balls

Team awards

Full concession stand

Bleacher seating

10 tickets to pre-determined Chicago Bandits game during the 2015 season
Any team that withdraws from the tournament 30 days prior to the event will receive a $300 refund. Any team withdrawing from the tournament within 30 days of the start date will not be given a refund.
---
2014-15 Rumble in Rosemont Invitationals

| | | |
| --- | --- | --- |
| Date | Age Group | Registration Link |
| January 9-11, 2015 | 16U | |
| | | |
| --- | --- | --- |
| Date | Age Group | Registration Link |
| January 23-25, 2015 | 18U | |
| | | |
| --- | --- | --- |
| Date | Age Group | Registration Link |
| March 27-29, 2015 | 14U | |
| | | |
| --- | --- | --- |
| Date | Age Group | Registration Link |
| April 10-12, 2015 | 12U | |
Application deadline for Rumble in Rosemont Invitationals is Wednesday, October 15
---
Tournament Sponsors